Chairman, Board of Trustees Speech at The 27th Graduation Ceremony of Kampala International University Held on Saturday 17th June 2023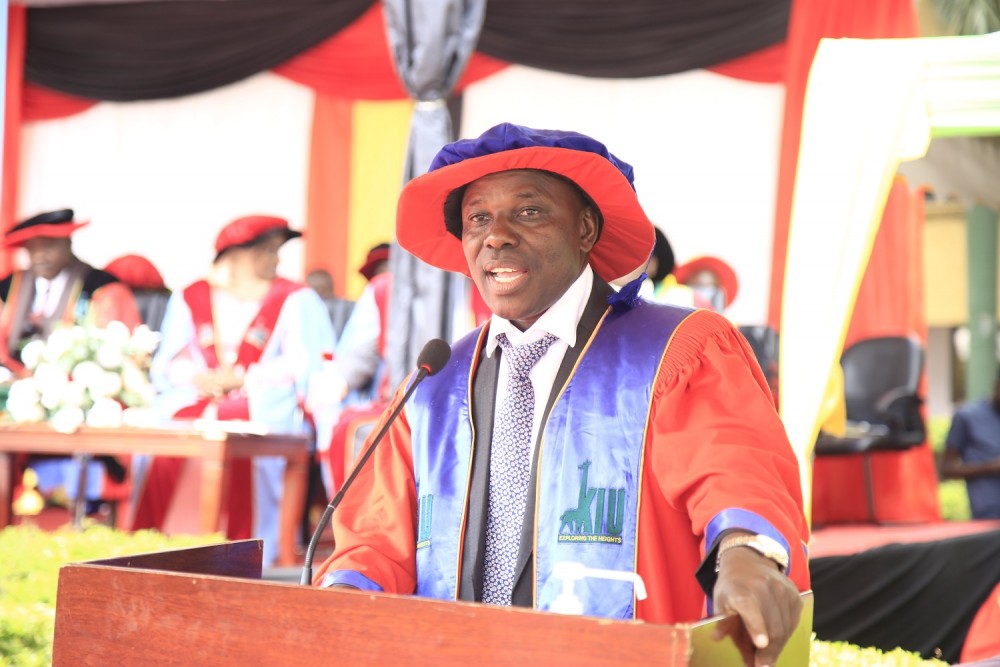 The Chief Guest, Her Excellency, Hon. Jesca Alupo, The Vice President of the Republic of Uganda,
The Chancellor, Prof. Yunus Mgaya,
Honorable Cabinet Ministers,
Your Excellences Ambassadors & High Commissioners
Honorable Members of Parliament,
Members of the Board of Trustees,
Chairperson and Members of the University Council,
Vice Chancellors and Representatives of Vice Chancellors of other Universities
Deputy Vice Chancellors, Principals, Deans, Directors, HoDs and all Members of KIU Management.
KIU Academic, Administrative and Support Staff of MC, WC
Distinguished Guests, including Dr. Umar Iddrissu, the Regional Director and Resident Representative for the Islamic Development Bank Region Group
Other Specially Invited Guests,
H.E The Guild President and the Guild Union Leadership
Alumni of Kampala International University (KIU)
Continuing students of KIU;
The Graduands
Ladies and Gentlemen; in your various capacities;
Speech Summary
SN

Key Issues

Introduction

1

Leadership and Governance

2

Resource Mobilization

3

Infrastructure Development

4

Philanthropy

5

Staff Development Programs

6

Appreciation

Conclusion
Introduction
Again it is that time of the year when we get to celebrate the achievements of Kampala International University. The success of a university is measured by the magnitude of its impact on individual lives and communities through research, teaching, and social-economic services. That on this graduation occasion KIU is passing out another cohort of graduands is testimony that the institution is still on course. As founders of the University, the Board of Trustees is pleased with the developments in the institution and we remain committed to ensuring its sustainable growth and development through resource mobilization. Let me take this opportunity to highlight a few areas in which the Board of Trustees has been engaged to support the University Council and Management in successfully running the University.
Leadership and Governance
In accordance with the University Charter, the Board of Trustees is charged with the mandate of periodically appointing key stewards in the form of the Chancellor and members of the University Council. In this regard, I wish to thank the outgoing Chancellor of KIU, Prof. Mahmood Mamdani, who has generously served the institution as titular head of the University through the most difficult times triggered by COVID-19. KIU will forever remain grateful to Prof. Mahmood Mamdani for his sacrificial contribution to KIU. In the same vein, I wish to welcome and thank the new Chancellor, Prof. Yunus Mgaya from the United Republic of Tanzania, who as well has generously accepted to lend KIU his vast wealth of experience in the leadership and governance of universities. We look forward to his guidance.
Similarly, the Board of Trustees would like to express gratitude to Professor Fred Wabwire-Mangeni who has successfully and diligently served as Chairman of the University Council for two terms. We congratulate him for a job well done. As Board of Trustees, we shall remain indebted to him. In the same vein, welcome Prof. Maud Kamatenesi who was recently installed as the new Chairperson of the University Council. We look forward to a great working relationship with her and the entire University Council as we propel forward the legacy of Prof. Wabwire-Mangeni.
On a sad note though, the KIU fraternity continues to mourn the demise of the former Vice Chancellor of Kampala International University in Tanzania (KIUT) – Prof. Jamidu Hizzam Yahaya Katima, whose body was laid to rest this week at Bukoba. May the Almighty God have mercy on him and be a consolation for his family and the KIU fraternity.
Resource Mobilization
I am glad to inform stakeholders that the Board of Trustees picked good lessons from the challenges triggered by the COVID-19 lockdowns. It was a wake-up reminder that over-reliance on tuition fees to run the university was a threat to institutional sustainability. As such, the Board of Trustees has rolled out aggressive strategies to diversify revenue streams for the University.
Infrastructure Development
The Board of Trustees has taken bold steps to establish the infrastructure that will create a conducive living and working environment for staff and students at both the Main campus and Western Campus. This is a necessary condition for our long-standing strategy to attract highly competitive staff and students regionally and globally. These include modern accommodation and learning facilities as well as social amenities, including a Scholar's Inn at Western Campus.
In addition, we are scaling up equipping of the three Regional Referral hospitals with which KIU has entered into MOUs to be used as teaching facilities for clinical courses i.e. Jinja, Hoima, and Fort Portal Regional Referral Hospitals. Facilities targeted include skills labs, diagnostic facilities and services, computer labs, internet, and accommodation for students and staff.
As has been the practice since 2004, KIU will continue to offer bursaries and scholarships to support the most deserving but economically challenged students. I have requested Management to compile a comprehensive report on the magnitude and impact of KIU's philanthropic outreach since 2004. This will help to create public awareness of KIU's social contribution in this regard.
Staff Development Programs
To sustain our ever-increasing programme, research, and innovation profile we need to have the right caliber of staff in the right numbers. KIU's strategic vision has always been to develop our own human resources. KIU's Staff Development Scheme continues to support staff to pursue Postgraduate studies (Masters and PhD) in the form of tuition waiver. The beneficiaries are not only a great resource to KIU; many of them have gone on to serve as seasoned academic leaders in various public and private universities and government regulatory bodies within East Africa and beyond. The Board of Trustees will continue to support this strategy.
Appreciation
In a general way, I would like to thank all the stakeholders who have stood by KIU over the years. I wish to pay special tribute to my colleagues on the Board of Trustees; the University Council, the Management and staff as well as students and their sponsors. The government of Uganda through its relevant agencies has been very supportive, not forgetting the various professional bodies. As the Board of Trustees, we are humbled by the growing realization among stakeholders that a win for KIU is a win for Uganda, a win for Africa, and a win for humanity
Conclusion
Over the past couple of years, I have consistently communicated the strategic vision of the Board of Trustees for this University and the efforts we are making to ensure that we position KIU at the leading edge in higher education not only in Uganda but also on the continent. Am happy to note that our collective efforts as stakeholders of the institution have paid off with visible and impressive results. It's our collective commitment that has created visible and impressive results at KIU. I pray we keep it up.
I once again thank the Almighty God for His favour upon this University. KIU will always remain committed to Africa's transformation through providing quality higher education.
Let's continue "Exploring the Heights".
I thank you.
Dr. Al Haji Hassan Basajjabalaba
Chairman Board of Trustees
---