Speech Of Ag. Chancellor/Vice Chancellor at The 26th Graduation Ceremony Of KIU, Saturday 12th November 2022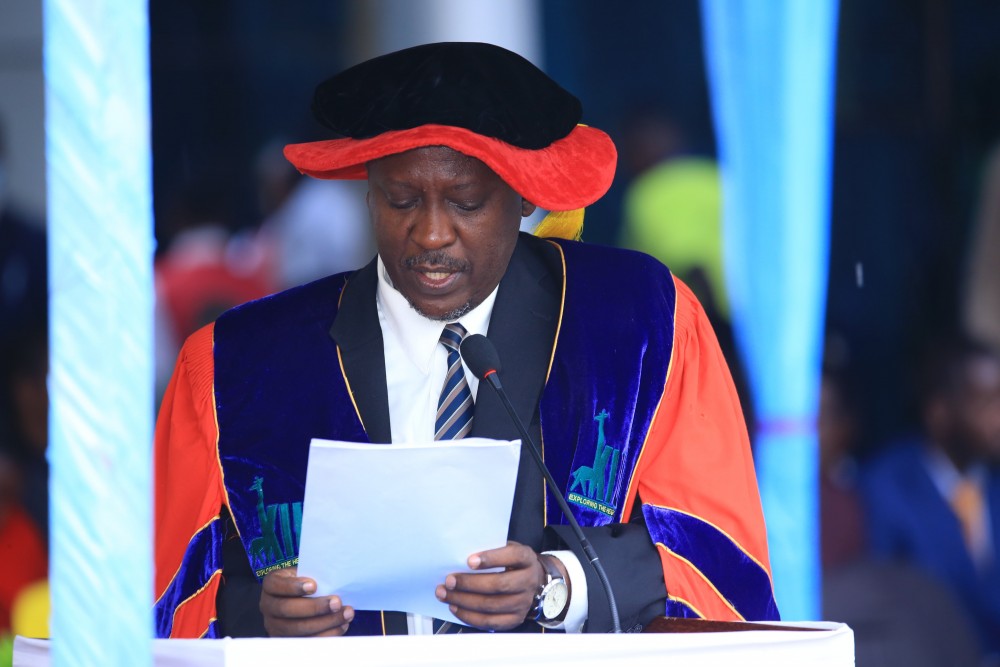 Theme: "Resilience: a strategy for survival in hard times"
Legal Provision for the Vice Chancellor to stand in the absence of the Chancellor
It is provided under Article 41 (e) of the University Charter of KIU that in the absence of the Chancellor, the Vice Chancellor shall preside over ceremonial assemblies and shall confer degrees and other academic titles and distinctions. I exercise the mandate conferred upon me in the absence of the Chancellor and pursuant to the said clause, I will proceed and exercise the said mandate in accordance with the Charter.
Speech
The Chief Guest, Rt. Hon. Thomas Tayebwa, Deputy Speaker Representing the Rt. Hon Speaker of the Parliament of the Republic of Uganda,
Honorable Cabinet Ministers,
Your Excellences Ambassadors & High Commissioners
Honorable Members of Parliament,
Chairman and Members of the Board of Trustees,
Chairperson and Members of the University Council,
Vice Chancellors and Representatives of Vice Chancellors of other Universities
Deputy Vice Chancellors, Principals, Deans, Directors, HoDs and all Members of KIU Management.
KIU Academic, Administrative and Support Staff of MC, WC
Distinguished Guests, including Dr Umar Iddrissu, the Regional Director and Resident Representative for the Islamic Development Bank Region Group
Other Specially Invited Guests,
H.E The Guild President and the Guild Union Leadership
Alumni of Kampala International University (KIU)
Continuing students of KIU;
The Graduands
Ladies and Gentlemen; in your various capacities;
WELCOME REMARKS
I welcome you all to the 26th graduation ceremony of Kampala International University (KIU). Thank you for positively responding to our invitation. I particularly welcome the Rt. Hon. Thomas Tayebwa, the Deputy Speaker representing the Rt. Hon. Anita Annette Among, the Speaker of the Parliament of the Republic of Uganda to KIU. On behalf of the Board of Trustees, the University Council, Management, students, and staff of the University, let me congratulate you and the Rt. Hon. Speaker for being elected into office. We have no doubt that you will be able to deliver on your mandate and positively contribute to national development.
To all our distinguished and invited guests, please feel at home and enjoy, learn and network as you witness yet another milestone of the University. Since the re-opening of educational institutions, we celebrate this graduation physically although under the threat of Ebola. I urge all of you to please maintain compliance with the SOPs for both EBOLA and Covid-19 in order to prevent the spread of the deadly diseases and save lives.
We thank the Almighty God for the life we still have since as you may expect, some of our staff and students have not made it to today.
Death of Our Very Own at the Frontline in Mubende Regional Referral Hospital
Allow me Chief Guest to report sad news. As you may be aware, on 20th September 2022, the Ministry of Health announced the Ebola Outbreak in Mubende. Six health workers in the theater, three of whom were KIU students, got exposed to an index patient. KIU and the Ministry of Health joined efforts and supported the exposed students in isolation. Unfortunately, the lead surgeon, Dr. Hafidh Muhamad Ali, of Tanzanian nationality, passed on 1st October 2022. The others survived. We appreciate the Ministry of Health and the High Commission of the United Republic of Tanzania for all the support extended to the affected students and families during that trying moment.
In addition, contact tracing of all students and staff was initiated via email and through class representatives. A report was generated on a daily basis and any student who presented with any mild symptoms and was "exposed" to their colleagues was tested. All clinical exams for that class were suspended till a time when the situation will allow that to happen. In the meantime, we switched to online teaching and will be looking at doing outstanding clinical rotations in other teaching sites when it is safe to do so.
Other Deaths
In the same vein, two other staff died of other causes namely; Assoc. Prof. Yakubu Ajiji Makeri (SOMAC) and Dr. Abdallah Ekomolotb Ongodia (CHSS). I request a moment of silence. We pray for all our fallen students and staff and may their souls rest in eternal peace.
The role played by KIU doctors, interns and postgraduate Master of Medicine students has been clearly demonstrated by the Mubende case. However, it also presents the challenges faced in the settings of their workplace. We call upon the government of Uganda, through the Ministry of Health, to address the shortages of Personal Protective Equipment and other requirements to enhance the safety of health workers on duty.
Clarification on Recent Social Media Reports Regarding Pregnancy Tests for Nursing and Midwifery Students
Rt Hon Chief Guest, distinguished guests, ladies and gentlemen, I wish to clarify a recent social media posting of an internal memo originated by the School of Nursing Sciences at the KIU Western Campus. The memo called upon students to go for a pregnancy test before they could be allowed to do their national exams. It should be made clear that the KIU School of Nursing was following the guidelines set by the Uganda Nurses and Midwives Examinations Board. Understandably, this matter attracted a lot of public attention, from civil society organizations, government Ministries, and other agencies. On one hand, KIU is supposed to be a compliant institution, while on the other, some of the existing regulatory guidelines need to be harmonized to suit the realities of our society and the respect for constitutional rights.
As a University, we decided to stay by that UNMEB guideline and will allow the students to sit for their exams. Unfortunately, the social media heat has been directed to KIU instead of the regulator. As a way forward on this matter, the University is engaging the relevant agencies and stakeholders to ensure that it is brought to a logical and appropriate conclusion. Our appeal is that UNMEB and sister regulators, working with education institutions undertake a review of the existing guidelines not only to fit the needs of the contemporary time but also to be in tandem with the Constitution of the Republic of Uganda.
KIU Maintains its Leading Position
On a lighter note, I am glad to inform you that KIU has maintained its 2nd position and is the best private University in Uganda. This is a result of the hard work and tireless efforts of administrative, academic, and support staff who we greatly appreciate for selflessly serving this great Institution. KIU has now advanced its collaborations and partnerships, with guidance from the Chancellor, Board of Trustees, and the University Council.
We continue to attract highly qualified, experienced, and diverse human resources in strengthening the university's quality assurance and delivery in teaching, research, and community engagements. We appeal to the government to consider our outstanding request for work permit waivers for international staff, particularly in the areas of science, technology, and innovations where the country still has significant shortages of human resources. The waivers should apply to both private and public institutions.
Recent Staff Promotions and Human Resource Matters
Let me take this opportunity to congratulate the staff who were recently promoted (between May and October 2022) to various academic ranks. For special recognition, I wish to mention the names of those who have attained the rank of Associate Professor and Professor:
Staff Promoted to the Rank of Professor
| | | | |
| --- | --- | --- | --- |
| NO | NAME | AREA OF SPECIALITY | EDUCATION LEVEL |
| 1. | Ass Prof. Busingye Godard | Laws | PhD in Laws |
| 2. | Assoc Prof Wotsuna Khamalwa | Public Administration | PhD Anthropology |
| 3. | Assoc. Prof. Agwu Ezra | Microbiology & Immunology | PhD in Microbiology & Immunology |
| 4. | Ass Prof. Ijeoma Blessing Anumaka | Education Management | PhD in Education Mgt |
Staff Promoted to the Rank of Associate Professor
NO

NAME

AREA OF SPECIALITY

EDUCATION LEVEL

1.

Dr. Olutayo Kadmiel Osunsan

Mgt Science

PhD in Mgt Science

2.

Dr.Wilfred M. Taribinah

Political Science &

Public Administration

PhD in Political Science & Public Administration

3.

Dr. Yakubu Ajiji Makeri

Management

PhD in Management

4.

Dr. Saliuhu Mariama

Biochemistry

PhD in Biochemistry

5.

Dr. Twinomuhwezi Hannington

Chemistry

PhD in Chemistry

6.

Dr. Kareyo Margaret

Information Technology

PhD in Management Science

7.

Dr. Odda John

Pharmacology

Phd in Pharmacology
I also welcome new staff who have been admitted into KIU's vibrant and dynamic staff development program. We are preparing these staff for the future to steer not only KIU but other institutions of higher learning as well.
I want to warmly welcome our new TAC Volunteers, who have taken on academic and administrative responsibilities and have given a big boost to the human resource capacity of the University. We are indeed grateful to the Federal Government of Nigeria through the TAC Directorate of the Ministry of Foreign Affairs, for the continued support. I recognize the Nigeria High Commission Officials here present and H.E The Ambassador, and also the Director General TAC in Abuja Nigeria.
Corporate Social Responsibility- 50% Waiver and Continuity of Bursaries
Rt Hon. Chief Guest, as you may be aware, the Covid-19 after-effects continue to manifest in different forms. Some are social-economic, while others are mental health related. As a forward-looking institution, KIU has a role to play in such circumstances. I am pleased therefore to inform you that the Board of Trustees announced a 50% tuition waiver for all postgraduate students (regardless of nationality) who enroll for August 2022 and January 2023. In the meantime, regular district-based undergraduate bursaries are still being offered to Ugandan students. This is part of the COVID-19 response relief. We call upon prospective and qualified students to take advantage of this offer.
It should be remembered that even during the time of the COVID-19 lockdown, KIU hosted stranded staff and students, and provided accommodation, food relief, and psycho-social support. We thank the Chairman BOT Hon Dr. Al-Hajj Hassan Basajjabalaba and the entire Board of Trustees for their foresight and kind heart for humanity.
Digital Integration
Dear distinguished guests, the University continues to adopt digital interventions in order to keep pace with the contemporary approaches to teaching, research, innovations, and community engagements. Our digital platforms continue to expand, and other facilities such as the state-of-the-art recording studio, are being added to the university infrastructure. As an example, the University launched an Online Portal for the Directorate of Higher Degrees and Research, which now enables continuity of graduate studies and research and tapping into a huge resource of global experts, who may find it hard to physically attend some of their academic and research obligations at KIU due to various inevitable reasons.
In addition, I am pleased to inform you that the University Senate and Management meetings now run a paperless business, thereby not only saving on the amount of paper used, cutting on costs but also contributing to the protection of the environment. As a university, we appeal to the government to provide technical, financial, and any other support to our digitalization efforts. Although we intend to increase digital access to both students and staff on and off campus, the cost of connectivity infrastructure, internet bandwidth, and related costs are still very high.
Accreditation of New Academic Programs
As part of the plan to sustainably produce high-calibre academic, research and innovation staff, the University applied and got accreditation of additional PhD Programmes, in addition to the existing ones. The newly accredited PhDs include:
| | |
| --- | --- |
| PhD in Medicine | PhD in Mathematics |
| PhD in Economics | PhD in Chemistry |
| PhD in Applied Statistics | PhD in Pharmacy |
| PhD in Information technology | PhD in Public Health |
| PhD in Computer Science | PhD in Physics |
This brings the number of accredited PhD Programmes to 29. As you may see, the University is targeting to strengthen its Science, Technology, and Innovation base as part of its contribution to the STI National Agenda. We have also streamlined and harmonized our Research and Innovation Agenda in the same line. We, therefore, request positive consideration from the government to support our efforts.
Infrastructural Development at the KIU Western Campus
Our Chief Guest, I wish to inform you and all our guests attending this ceremony that the KIU Western Campus is being deliberately developed into a Science, Technology, and Innovations hub. The Board of Trustees continues to invest in the teaching, research, and innovation facilities, state-of-the-art laboratories, and now a modern Campus Library, the construction of which is near completion. This Library is expected to seat at any one time more than 5000 users. In addition, the School of Engineering building is being expanded to cater to the additional needs. The Information and Technology infrastructure has also been enhanced, let alone the planned construction of additional staff and student accommodation facilities.
I wish to inform you that the University senate already took a decision that either the 27th (June) or 28th (November) Graduation Ceremony in 2023, will be held and hosted at the KIU Western Campus in order to see for ourselves the immense development of the campus and witness the launch of a number of completed projects. Already, the university has immensely transformed the local economy of the greater Bushenyi districts and surrounding localities, while the teaching hospital has expanded its services to deserve the status of a Regional Referral Hospital. Our Chief guest, we present our request to raise the status of the KIU Teaching and Research Hospital status as a Regional Referral Hospital with accompanying related benefits and support.
Celebrating KIU School of Law @ 20
Since its establishment 2 decades ago, KIU School of Law has far exceeded expectations. It is consistently ranked one of the best Law Schools in Uganda and continues to grow and evolve, and has received numerous honors and accolades. I also wish to inform you that since its inception, the School of Law has produced more than 5000 graduates, who are lawyers and leaders in different sectors and areas of human endeavors in Uganda, other parts of Africa and beyond. The School has one of the highest overall Bar pass rate among the schools of law in Uganda. For example, more than 10 KIU Law Students bagged 1st Class at the 2022 Bar Course Examinations of the Law Development Centre (LDC).
The School has produced a number of sitting judges in Uganda and other African countries and engaged more than 500 Faculty members and legal experts from different parts of the world to contribute their legal and professional expertise to the development of Law, Judiciary & Legislative policies in the East African community and beyond. The School was the National Champion of the 2021 International Humanitarian Law Moot Court Competition held in Kampala Uganda. Recently, the KIU School of Law also won a trophy by defeating all other universities in the finals of the Inter-University Unwanted Witness Privacy Moot Competition held on Friday 14th October, 2022 at Makerere University Campus.
Last but not least, the KIU School of Law, won the best-written submissions award at the 9th Annual National Inter-University Constitutional Law Moot Court Competition held between 3rd- 4th November, 2022 at Hotel Africana. Kampala, Uganda.
Ladies and gentlemen, join us as we celebrate the School of law @20 with these and many more achievements.
Partnerships and collaborations
Swahili and Chinese Languages launch: As part of the University's efforts to prepare our staff and students for the EAC integration, training in both Swahili has been launched. I wish to thank the Tanzania High Commission in Kampala for the support extended during the launch of the Swahili Club and hope that this support will be sustained until we reach a critical mass of Swahili speaking KIU community. At the same time and in furtherance of the cooperation between KIU and Chongqing Jianzhu College, China, a free online Chinese language class has commenced at the University. This is in addition to the launch of the social business project of the YY Foundation under the Yunus Social Business Center, in conjunction with the University Centre of Excellence in Entrepreneurship and Innovation. These efforts fit very well in providing micro-credentials to KIU Graduates for them to remain very competitive in job creation and the job market.
KIU key stakeholder in Africa University Network: Africa University Network is a network the collaboration of East African-based Digital Innovation and Skills Hub (DISH), Virus Outbreak Data Network Africa (VODAN-A), research programs on social transformation, and the Globalization, Accessibility, Innovation, and Care (GAIC) Network. Data is the new gold and the oil of the new economy. Africa must fully benefit from the data it produces. The Africa University Network on FAIR Open Science has been established to facilitate a science to support Africa-based knowledge, economies, and development based on its own heritage. The network is proud that it is comprised of public and private university programs across the entire continent, from Tunisia to South Africa and from Zimbabwe to Somalia. All are welcome to join. The network appreciates the value that all universities bring, especially regional and localized universities, rooted in communities. The network presents an opportunity to work with university networks across the globe. The point of collaboration is: data is local, ownership of data is local, and knowledge is local. By creating interoperability between locally owned data, we can increase collaboration, and retain the value in Africa. The African University Network on FAIR Open Science has three major programs: The Digital Innovation and Skills Hub (DISH) provides opportunities for all students, including those that dropped out, to learn skills, discover talents and contribute. The Virus Outbreak Data Network Africa (VODAN-Africa) presents an African Approach to make data locally owned and yet interoperable. This has incredible potential in the science sector, health, climate, and industry. VODAN-Africa presented the first operational cross-border collaboration of health data stored locally and analyzed across nine countries. It is ahead of global developments and showing the way for the digital future. The Globalisation, Accessibility, Innovation and Care (GAIC) Research program serves as an example of scientific collaboration across the continent and with other geographies. The program trains specialized academics, with interdisciplinary backgrounds through its dedicated PhD programmes. The African University Network on FAIR Open Science embraces global standards on FAIR Open Science and contributes to it. As an African network, it works with African organizations to promote African science and collaboration with international partners in the European Union and elsewhere.
The Collaborating Countries in the Africa University Network are: Tunisia, Liberia, Uganda, Nigeria, Tanzania, Kenya, Somalia, Ethiopia, Cameroon, Burkina Faso, Ghana, Senegal, South Sudan, Sudan, Zambia, Zimbabwe, and South Africa.
I wish to thank all our partners, coordinated by the KIU-Leiden Chair Prof. Mirjam van Reisen, of both Tilburg and Leiden University, and all the PhD students including our very own Mariam Basajja, coordinating Uganda as a Country in the VODAN Africa project.
Summary statistics 2486 (about 200 will not be able to graduate due to financial constraints)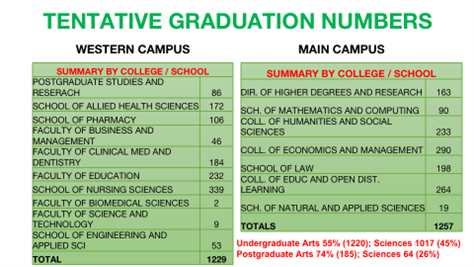 Countries represented among the graduands: Uganda, Nigeria, Somalia, South Sudan,Burundi, Liberia, Tanzania, DRC, Eritrea, Sudan, India, Zambia, Kenya, Cameroon, Rwanda, Malawi, Namibia, Sierra Leone
Outstanding Performers
Among the graduates are those who have distinguished themselves above the others by obtaining a first-class degree. I will read out the names and ask those in that category to come to the front and receive their certificates of merit to be presented to you by the Deputy Vice-Chancellor in charge of Academic Affairs, Dr. Sophie Kazibwe. Congratulations.
| | | | | | | |
| --- | --- | --- | --- | --- | --- | --- |
| S/N | NAME | REG.NO | GENDER | NATIONALITY | CGPA | PROGRAM |
| 1 | Koroma Samuel B.M | 1175-03144-14594 | MALE | SIERRA LEONE | 4.71 | BSTE |
| 2 | ABUDKADAR MOHAMMED | 2019-04-05771 | MALE | SOMALI | 4.66 | BBA |
| 3 | Nalwanga Resty | 1173-01024-12331 | FEMALE | UGANDAN | 4.66 | LLB |
| 4 | HARRIET KURIBAKANYA | 2020-01-00505 | FEMALE | UGANDAN | 4.65 | BBA |
| 5 | NAKIJOBA MARGRET | 1164-05064-09601 | FEMALE | UGANADA | 4.61 | BHR |
| 6 | SANDRA ALINDA | 2019-01-04964 | FEMALE | UGANDAN | 4.6 | BBA |
| 7 | MIKA THEMBO | 2019-01-04676 | MALE | UGANDAN | 4.6 | BBA |
| 8 | JOHN TAYEBWA | 2020-01-00762 | MALE | UGANDAN | 4.59 | BBA |
| 9 | NABUUMA DIVINE LYDIA | 2020-01-00966 | FEMALE | UGANDAN | 4.56 | BBA |
| 10 | NAKINTU ALLEN | 2018-08-01930 | FEMALE | UGANDAN | 4.54 | BIC |
| 11 | ATUKWATSE RONALD | 2019-08-07657 | MALE | UGANDAN | 4.53 | BED |
| 12 | KOMUGISHA PROSSY | 2019-04-05626 | FEMALE | UGANDAN | 4.49 | BIR |
| 13 | AMODING RHODA | 2018-08-03005 | FEMALE | UGANDAN | 4.48 | BIC |
| 14 | WAKABI GEOFREY | 2018-08-02349 | MALE | UGANDAN | 4.48 | BSE |
| 15 | MAYANJA JOSEPH | 2019-01-04589 | MALE | UGANDAN | 4.46 | BIT |
| 16 | TUMUHIMBISE Didas | 2019-04-05504 | MALE | UGANDAN | 4.46 | BTM |
| 17 | PIRIYO Joseph | 1162-05024-04714 | MALE | UGANDAN | 4.44 | BCOM |
| 18 | SANDE IRENE | 2019-01-04830 | FEMALE | UGANDAN | 4.44 | BBA |
| 19 | KAKAYI GLORIA | 2019-04-05683 | FEMALE | UGANDAN | 4.43 | BAE |
| 20 | ARAO YVONNE | 2019-04-05856 | FEMALE | UGANDAN | 4.41 | BHR |
Message to all Congratulations
To all graduands, we congratulate you all for withstanding the academic pressure and other life realities and challenges that have made some of your colleagues drop out. We appreciate your parents, guardians, and other sponsors supporting your education and training, and their significant efforts to see you attain your dream.
As you move into the world of work, please remain humble, respectful, and patient in order to traverse the challenging job terrain. As KIU Ambassadors, go out and promote the University and keep its good name, image, and integrity. Always remember your Alma Mater, for it has made you who are today. Once again, congratulations and all the best.
Appreciation
Let me take this opportunity to appreciate all our partners in Uganda, East Africa, and beyond for the support and collaborations that keep raising the KIU Flag high. I particularly want to thank the Foreign Missions and Embassies in Uganda, International NGOs, and other agencies such as Nuffic Netherlands, Invest International, Leiden, and Tilburg Universities.
I also take this opportunity to thank the NCHE, UMDPC, Allied Health Professional Councils, Uganda Nurses and Midwives Council, The Pharmacy Society and Council of Uganda, the Engineers Registration Board, the Uganda Institute of Professional Engineers, and all the others not listed here, but by no means less important.
I appreciate the Chairman and members of the Board of Trustees, the Chancellor, Chairperson and members of the University Council, University Management, Deans and Principals, Heads of departments, and all academic, administrative, and support staff, for all their efforts to keep the University operational. I also salute the KIU students Guild for their usual cooperation in serving students and working in harmony with the University administration. The team that has organized this successful ceremony.
All the best and wish you safe journeys back and safe and healthy celebrations thank you.
Prof. Mouhamad Mpezamihigo
VICE CHANCELLOR
---