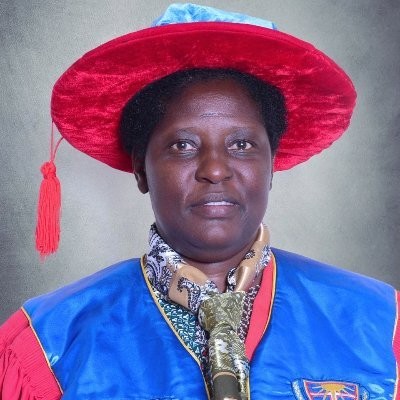 Prof. Maud Kamatenesi Mugisha
Chairperson University Council
Prof. Maud Kamatenesi Mugisha studied Botany and Zoology at Makerere University where she graduated with a Bachelor of Science degree. She has a postgraduate Diploma in Education, also from Makerere. Her Master of Science in Environment and Natural Resources Management degree and Doctor of Philosophy in Medical Ethnobotany and Ethnopharmacology were both obtained from Makerere University.
She was recruited as a Teaching Assistant in the Faculty of Science at Makerere from 1996 to 1998. She spearheaded the restructuring of Makerere University into schools and Colleges and provided oversight roles to restructuring Makerere University to present-day academic development and structures.
From 1998 until 2000, she served as Lecturer and Head of Department, at Uganda Fisheries Training Institute in Entebbe. She later would serve as the Head of Fisheries Extension Education and Administration, Fisheries Training Institute, Entebbe.
From February 2011 until May 2014, she served as the Dean of the School of Biosciences, College of Natural Sciences at Makerere University. She oversaw the school networks and collaborations, mainly sponsorships of Carnegie Corporation of New York, SIDA Sweden, Madhivani Foundation, Sports Scholarships of Uganda National Sports Council, NAPRECA (Natural Products Research Network for East and Central Africa that were mainly from DAAD), Lake Victoria Environment Management Program (LVEMP) and other external student sponsorships for undergraduate and postgraduate Students.
On 2 May 2014, Prof. Kamatenesi was appointed Vice Chancellor of Bishop Stuart University where she served until February 2023 when she was appointed KIU University Council Chairperson. During her tenure as VC, she signed over 10 MOUs for staff and student exchanges for example the RUFORUM-student exchange, IUCEA Staff exchange, EAC-Kiswahili Commission-staff exchange, Higher Education Student Financing Board (HESFB), Israel Agro studies Student Internship, Brexit, Student Exchange-Netherlands, Norway, etc. British Council Staff visits, to mention but a few. She also coordinated linkages and collaborations with the Government, especially the NARO Garden of Aromatic crops and students' practicum, Local Governments, Schools, Schools practice, Internships, and health sciences practicum.
---